Vasta Stone is a premium brand producing sintered stone. In December 2022, the brand was officially launched in the Vietnamese market. With imported Italian technology, Vasta Stone is able to produce the largest size of sintered stone and establish itself as a market leader in Vietnam.
The term "vast" or "extensive" in Italian is "VASTA". The name reflects the unprecedented size of the stone, available in thicknesses from 6mm to 20mm and in heights up to 320 x 160cm.
One of the most cutting-edge production lines in the world, the SACMI Continua+, is applied to make Vasta stone. The technique combines a sintering system with MDX, a fuel-optimized, environmentally friendly, and cost-effective process control system that guarantees thickness and density consistency.
Because of its appeal, adaptability, usability, and suitability, the sintered stone of any size is a preferred building material. It is created using state-of-the-art technology forming Vasta Stone the same way natural stone and marble are formed, perfectly natural. Great blocks of marble and granite take thousands of years to form, yet sintered stone can be made in a matter of hours thanks to SACMI Continua+.
Mineral and stone particles are selected based on color, texture, and quality, then processed with heat and pressure. The end result is a material that is extremely tough and durable, easy to maintain, and resistant to water, fire, stains, and scratches.
The designs of Vasta Stone are a reflection of Italy's technological and fashion prowess and are created using the most advanced digital decorating process and product-forming technology. We have made absolutely sure that Vasta Stone is the pinnacle of Italian technology and design thinking behind it.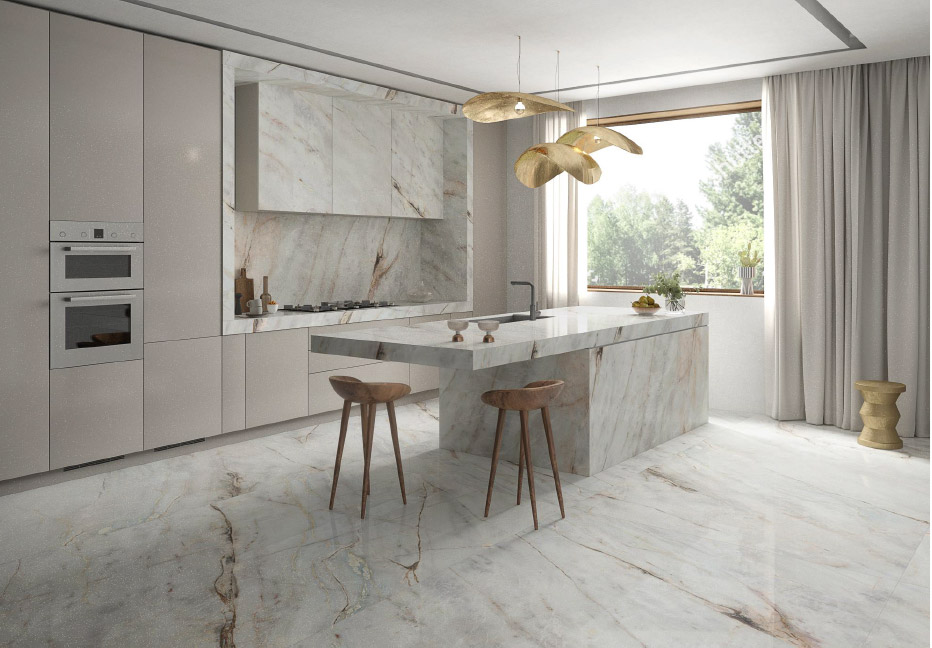 Vietnam's building material business will undergo a revolution as a result of Vasta Stone
With Vasta Stone, large-scale construction projects like fine dining, airports, shopping malls, and residential apartments will be able to scale up their designs, and Vietnamese architects and designers will be able to compete on an equal footing with their counterparts internationally.