Ho Chi Minh City, Vietnam – September 9, 2022 – In the heart of vibrant Ho Chi Minh City, the Saigon Rose Villa hosted a transformative event – the grand introduction of Vasta Stone, a visionary brand that promises a future of architectural excellence while embracing sustainability
Vasta Stone, a name that comes from the Italian word for "vast," promises a world of amazing possibilities.
It's not just a fancy brand for beautiful sintered stone products; it's like a symbol of endless beauty and amazing performance, something that's going to catch your eye and change what you expect.

Imagine a place where technology knows no bounds, where each creation is not only visually captivating but also environmentally responsible. Vasta Stone emerges from the heart of Vietnam, brought to life through state-of-the-art Sacmi Continua+ technology from Italy. This innovation allows us to manufacture sintered stone masterpieces that set a new standard for both aesthetics and ecological stewardship.
Envision a world where modern design harmoniously merges with heritage. Vasta Stone takes immense pride in its rich Italian design lineage. Our dedicated team seamlessly blends the latest trends with timeless techniques, resulting in sintered stone creations that are truly unmatched.
Imagine walking into a space that's an extension of your dreams, where every corner tells a story. Vasta Stone understands that everyone is unique, and so are their spaces. That's why the brand offers a range of sintered stone products that can transform any room. From lavish bathrooms to modern kitchens, from indoor elegance to outdoor splendor – Vasta Stone finds its place everywhere. But here's the magic: all this beauty is created with the environment in mind. The brand takes pride in its eco-friendly manufacturing process, proving that sustainability and luxury can coexist beautifully.
In the words of Mr. Ranko Lukić, the Managing Director of Vasta Stone, "Seeing Vietnamese expertise create sintered stone that matches global standards is an honor. We're not just building with stone; we're building a brighter future."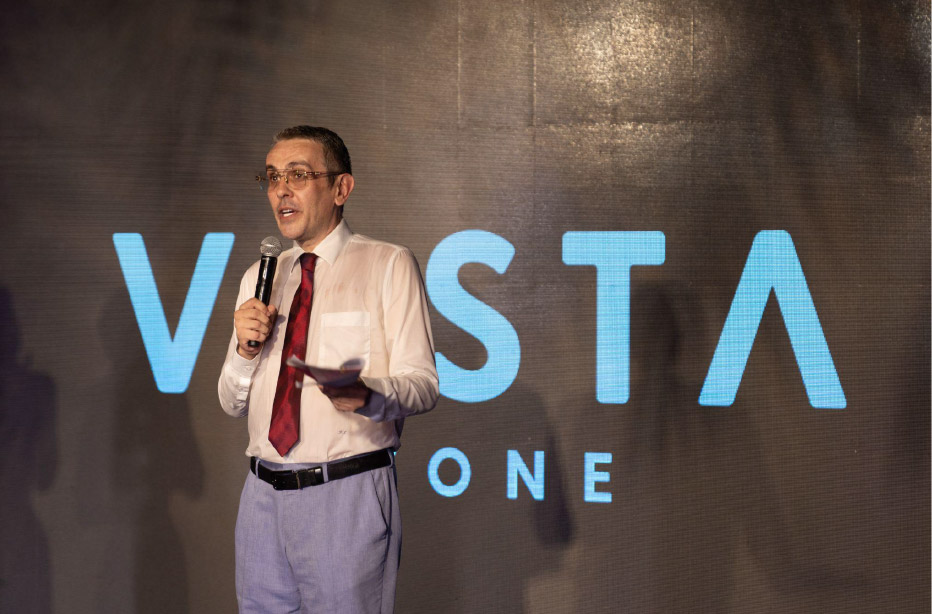 More than a Brand, an Experience
Vasta Stone isn't just about products; it's about the journey. Every touchpoint, every interaction immerses you in a world of elegance, innovation, and unwavering sustainability. This dedication ensures that each customer becomes an integral part of a narrative that shapes the future.

Vasta Stone stands as a testament to the pinnacle of Vietnamese craftsmanship, a tribute to the nation's legacy. Today, we proudly introduce not just a brand, but a transformative force. Vasta Stone symbolizes Vietnam's ascent on the global stage, showcasing the nation's influence and creative prowess.
Vasta Stone's journey is a collaboration with esteemed partners – Sacmi, Altadia Group, Digital Design, and Hoop. Together, we are reshaping the landscape of Vietnam's construction industry, transitioning from import dependence to global leadership.
Picture a world where luxury converges seamlessly with sustainability, where heritage finds harmony with innovation.
This is the world of Vasta Stone – a world where the very essence of architectural beauty is redefined.
Immerse yourself into the world of Vasta Stone by watching the recap below: